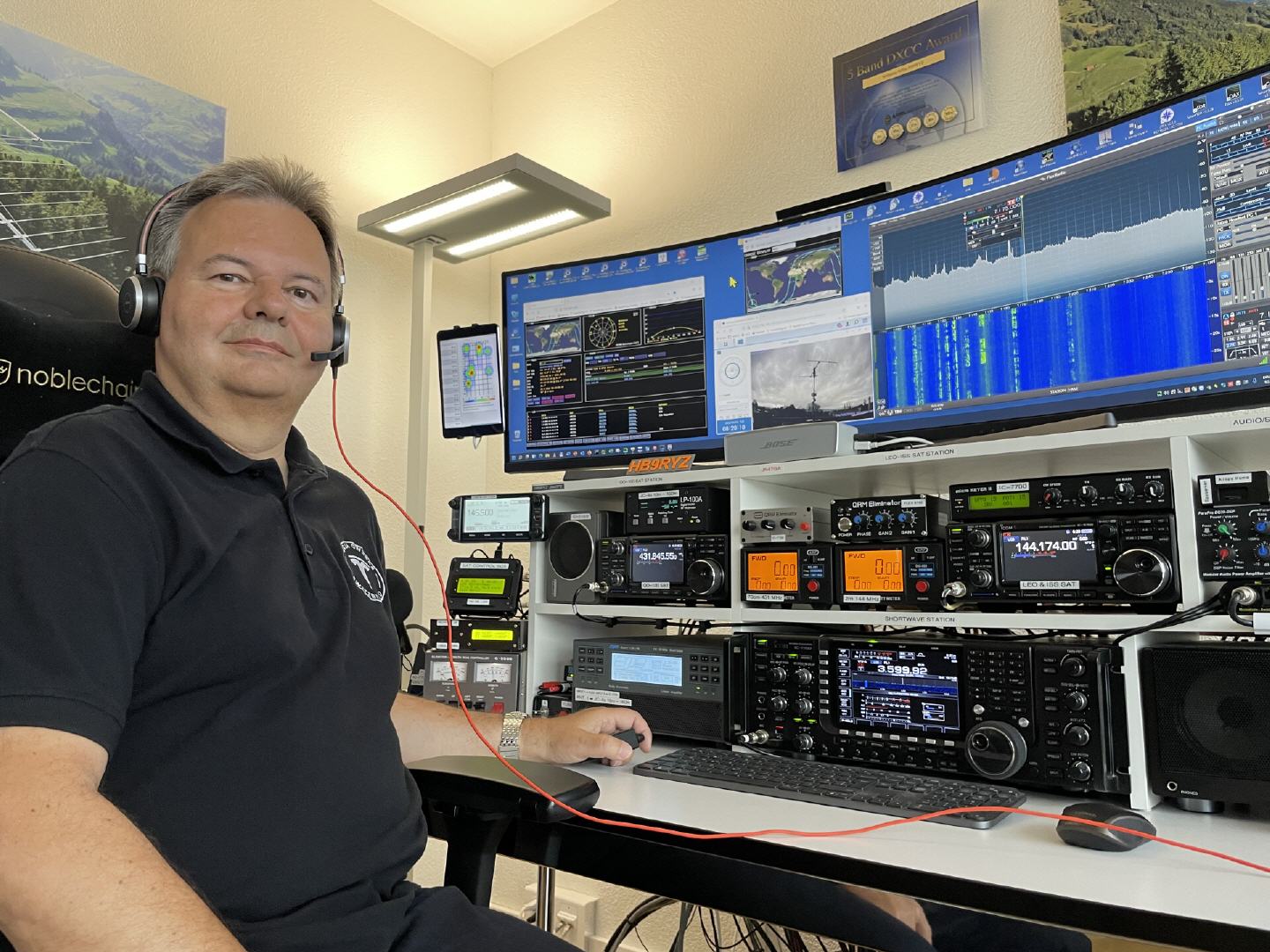 Amateur Radio and Ham-Spirit
I received my Swiss amateur radio license in December 1983 and was active until 1986 mainly on Oscar-10. After a 30 year interruption (QRT) I started again from scratch in March 2016. Equipment at home, remote DX-Station and all QSOs (10'000+) had been made since March 2016.

Hams know there is no other service like ours. No fraternity on earth has the power & magic to bridge culture, nationality, distance and disparate interests like Amateur Radio does.

Amateur radio, also known as ham radio, describes the use of radio frequency spectrum for purposes of non-commercial exchange of messages, wireless experimentation, self-training, private recreation, radiosport, contesting, and emergency communication.

The amateur radio service (amateur service and amateur-satellite service) is established by the International Telecommunication Union (ITU) through the Radio Regulations. National governments regulate technical and operational characteristics of transmissions and issue individual stations licenses with an identifying call sign such as HB9RYZ.

73 de HB9RYZ - Wolfgang
On June 17, 2021 we installed the new OptiBeam OBDYA12-5. A 12 Element Driven Yagi Array 20/17/15/12/10m. This is the first OptiBeam of this type installed in Switzerland. At the same time we installed a Wellbrook ALA1530LN Loop for the new WebSDR Server (HF) with a new Diamond X-50N (2m/70cm) Antenna for the new WebSDR Server (UHV/VHF). We also installed a FlightRadar Station for the Buochs airport where is also the homebase of Pilatus Aircraft.

On June 11, 2021, we installed a new high-end cabinet built to our requirements for all our equipment. Now we have significantly more space for new projects and thanks to the side door a better maintenance access.

Some new devices for the Shack ...
- New Flexradio 6700 Limited Edition and number two on the Sherwood Engineering Receiver Test table
- New Rohde & Schwarz EK070 Receiver connected over Omnirig with the PC
- New SunSDR2-DX Transceiver
- New ParaPro EQ20-DSP for better Audio
- New METROPWR FX773 Power-Meter
- New ELAD TMate2 for use with Radio SDR COnsole and QO-100 Station
- New Audio-Switch Solution for all Transceivers and Receivers
- 8Q7AO, Maldive - Jan 25th - Feb. 7th 2021 by HB9WDF
- Jabra Business DECT Headset for many Transceivers
- Stockcorner Tuner JC-4s with 54m DX-Wire at home for 10m-160m
- 10-Band EQ V7 for ICOM from UR6QW
- Stockcroner JC-4s Tuner-Protection Kit has been successfully developed and will soon be available as a kit.
- Raspberry Pi based remote control of a SPE Expert power amplifier has been successfully developed and is available for free download on Git-Hub

Award News:
- DXCC Challenge Award 29-March-2021
- DXCC 5-Band Award in April 2021
- 5 Band WAZ Certificate completed
- WAS "Worked all States" #64454 Award completed
- 80m Band DXCC 100 Award completed
- 10m Band DXCC 100 Award completed
- 12m Band DXCC 100 Award completed
- Russian Districts Award "100" #1749 completed

Performed 10'000 QSOs from March 6, 2016 to April 29, 2021 in only 5 years.

Stay tuned ...
73 de HB9RYZ, Wolfgang
On June 26th we were finally able to successfully put our new Remote DX station back into operation after the winter storm. At the top is the OptiBeam OB5-6 (6m) and below is the LZA 10-5 10 element Beam (10-20m). Underneath is our HyEndFed8 for 30-80m. More details here

OmniRig v2.1 is now called "MultiRig v1.0". We will soon publish the source code of "MultiRig v1.0" on Git-Hub. Every HAM software developer is welcome to implement our new MultiRig solution. Please contact us at info@hb9ryz.ch

Link to our new SPE Expert 1.3k Amplifier Multiuser Remote Solution

Sound 8-band Equalizer with compressor, low noise preamp, Echo effect processor and Noise Gate to transceiver V.5 from UR6QW
Winter Storms in February 2020 - Rebuild in June 2020
Three strong winter storms (Petra, Sabine and Bianca) totally destroy all our antennas.

Our remote station had already survived several severe thunderstorms (including one that un-rootet a large fir tree close by), so we thought we were safe. The trouble started with storm Petra. There was already ice on the antennas and storm Petra came with heavy snow and strong winds. It broke off two elements of the the 6m beam and bent the top tube. The 40m EndFed wire was torn apart. The pictures below show the state after storm Petra.

The next storm (Sabine) was even stronger than Petra, but it did not do additional damage because there was little snow on the antenna at that time. Snow and ice have an incredible effect on the wind load. The following picture shows the antenna after storm Sabine. The HF beam recovered nicely once the snow and ice was gone and was still working OK.

The last storm Bianca did the rest. There was again a lot of snow and ice on the antenna. The top tube broke apart and everything came down (see the picture below from the morning after).

Due to the current world-wide Corona health crisis we cannot replace the antennas immediately. However, we have already fixed the EndFed antenna and the KiwiSDR is back online for you. We have replaced the FlexRadio 6500 with a FlexRadio 6700 and added two AirspyHF+ SDR's that are able to monitor the bands 24/7 using WSPR and FT8.
Installation 29. August 2019
Almost 2 years ago we carried out first talks with representatives from Rigi Railways Inc. about the possibility of renting a no longer used mast 1660 metres above sea level and using it for Amateur Radio. In autumn of 2018 we installed a temporary G5RV and two Colibri SDR receivers to find out if this location could be used for amateur radio. We found that we had some noise up there, but it was A LOT better than what we encounter at the home QTH of HB9RYZ and HB9CQK! Planning went ahead and Frédéric HB9CQK and myself decided to get our HAM Dream finalized.
[1] COM IC-7700 [2] Rohde & Schwarz EK070 Receiver [3] ICOM IC-9700 Transceiver 2m, 70cm, 23cm for OSCAR-100 SAT Operation [4] SPE Expert 1.3K-FA with ATU (1.3kW Amplifier) [5] LP-100A Digital Wattmeter up to 3kW [6] 49" Samsung Curved Display [7] Audio-Switch for Audio-Input und -Output Selection [8] PE1CMO OSCAR-100 Duplex-Transverter (20cm/2m), 20 Watt [9] Sound 8-band Equalizer UR6QW [10] BOSE Soundlink AE II Headset and Antlion ModMic V4 [11] Microphone Switch ED 1A for all ICOM- and SunSDR2-DX Transceiver [12] ICOM SP-34 Speaker [13] Power Mate VFO-Knob [14] Heil Hand PTT-Switch [15] ParaPro EQ20-DSP [16] SunSDR2-DX Transceiver (100W) [17] Jabra Headset for SunSDR2-DX [18] Rasperry Pi3 for ColibriDDC SDR [19] ColibriDDC SDR as Panadapter for IC-7700

[20] SignaLink USB for IC-7700 (FT8) [21] ELAD TX/RX PC-Sound Switch [22] Studio MIC [23] iPad 2 Mini for DX Propagation View www.DXheat.com [24] Low Pass Filter LPF-1 1-30MHz [25] Balun Design 1:1 Choke [26] Power-Supply 5V/12V/30V for QO-100 Transverter [27] SDRPlay RSP2 Pro for QO-100 [28] QO-100 DX-Patrol Down-Converter 739/144 MHz [29] GPSDO Leo Bodnar 25MHz and 10MHz for LNB, Transverter and IC-9700 [30] Kuhne DC-Bias and GPS Ref-IN for LNB [31] High-End PC Intel Core i7 8700K, 4.7 GHz, 6 Cores, 32 GB Ram, 1 TB SSD Disk, Win 10 [32] Digital Power and SWR Meter for 2m (DG-503) [33] Digital Power and SWR Meter for 70cm (DG-503)
Beobachter 14/2019 - Amateurfunk

Die Stimmen im grossen Rauschen.

HBradio 2/2019 - Article about my OSCAR 100 Satellite Station

QRV over the new OSCAR 100 Geo-Satellite

HBRadio 6/2016 - Article about my Inverted-V Antenna in German

Home Made Inverted-V (G5RV) from August 2016 to August 2018. Article in the Swiss Amateur Radio Association Magazine 06/2016. The article is written in German.

HBRadio 4/2017 - Article about my Expedition at a Cargo-Ship and Cruise Ship in German

Reiseberichte von den MM-Erfahurngen auf einem Frachtschiff (Cargo Ship) und Kreuzfahrtschiff (Cruise Ship). Article in the Swiss Amateur Radio Association Magazine 04/2017. The article is written in German.

QRV on Cargo-Ship SWISS ARTG GV 18.11.2017

Vortrag zu den beiden kleinen Expeditionen auf einem Frachtschiff als Passagier von Italien nach Irland und auf einem MSC-Kreuzfahrtschiff von Hamburg nach Island.