Swiss Remote DX Amateur Radio Station at 1'660m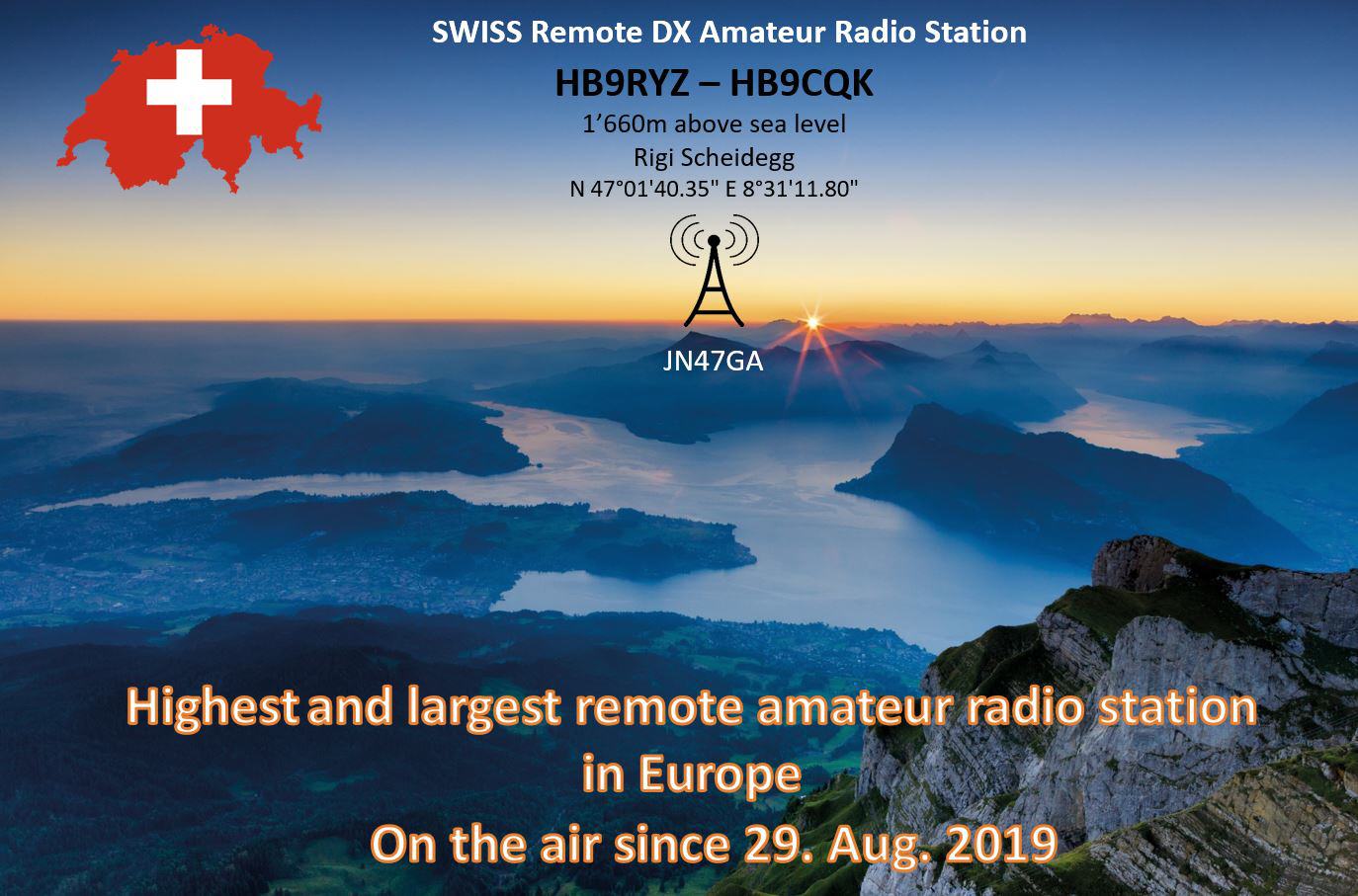 Frederic (HB9CQK) and me are working on a Swiss mountain remote DX-Station project since Sept. 2018. We have many challenges such as strong wind, ice, thunderstorms, snowfall, big temperature differences, Windows 10 updates, etc. Since 2019, we made a lot of remote-station expierence and we are still learning news with such a great Remote Site.

Goal of the solution:
The aim of our Remote DX-Station is to operate a remote radio site via the Internet, where there are almost no "man-made interference" (e.g. PLC, power supplies, solar power system, DSL-lines, etc.). Ideally, the location is slightly elevated and has a 360° all-round view.

Flexradio 6500/6700, OptiBeam OBDYA12-5 12-element Driven Yagi Array for 10m, 12m, 15m, 17m, and 20m, OptiBeam OB5-6 (6m), 54m Wire-Antenna with a Stockcorner JC-4s Tuner (30-160m), Expert 1.3k Amplifier, Prosistel PST61D Rotor, EA4TX Rotor Control, DX-Engineering DXE-RTR2, Balun Designs, Lightning Protection, Airspy HF+ with Spyserver SDR, Nport 5410 for Expert Remote-Control, and a public WebSDR Server (HF) with a Wellbrook ALA1530NL Loop and WebSDR Server (UHF/VHF) with a Diamond X-50N (2m/70cm) Antenna for the HAM community.
Our free WebSDR- and Kiwi-SDR Servers for the HAM-Community
WebSDR Server (HF) with a Wellbrook ALA1530NL Loop Antenna
WebSDR Server 2m/70cm with a Diamond X-50N Antenna
KiwiSDR Server with a Wellbrook ALA1530NL Loop Antenna

Have a look at the Live 360° public WebCam
Frédéric HB9CQK provides additional information.
Article in German about our Remote DX-Station from Jörg (DD8JM)
Since summer 2020, we have a 100 (Down) /100 (Up) Mbit/s fiber optic Internet connection at 1'660m!

Below an example: 20m in SSB, taken on Sept. 3, 2021 (22:00 UTC) from SDR receiver K3FEF in Milford, Pennsylvania, USA with a G5RV antenna. Distance: 6366.42 km (3979.012 miles). Rigi: OptiBeam OBDYA12-5, Flexradio 6700 with 1kW (Expert 1.3k), Jabra wireless DECT business headset conneted via USB with home computer (Windows 10) and SmartSDR v3.2.39.
Audio Test on 20m SDR K3FEF Pennsylvania - USA
Final Equipment
Flexradio 6700 High End Transceiver,
OptiBeam OB5-6 for 6m,
OptiBeam OBDYA12-5 12-element Driven Yagi Array for 10m, 12m, 15m, 17m, and 20m,
54m Wire-Antenna with JC-4s Stockcorner Tuner,
Expert 1.3k Amplifier,
Prosistel PST61D Rotor,
EA4TX Rotor Control with Raspberry Pi3,
DX-Engineering SDR Protection Switch DXE-RTR2,
Airspy HF + with Spyserver each on a Raspberry Pi4,
WebSDER Server for HF,
WebSDR Server for 2m/70cm,
NPort 5410 serial port Mulitplexer to control the Expert 1.3k amplifier,
Lightning Protection,
Remote 230V Power ON/OFF device,
Remote Web-Relais to Switch ON/OFF our devices,
1:1 5kW Chokes from BalunDesings,
LPF-1 Low Pass Filter for OptiBeam and Wire Antenna,
Active Antenna Splitters from Bonito and ELAD ASA15 Active Antenna splitter for our SDR-Receivers
October 2021 - Drone Flight
Drone Flight - 11. October 2021
Drone Flight - 360 View at 1'660m
October 2021 - OptiBeam Repair & Maintenance
11. June 2021 - Installation of new Cabinet
17. June 2021 - Installation of new OptiBeam
17. June 21 Installation of New OptiBeam OBDYA12-5
6. Aug. 20 - Installing JC-4s Tuner with 54m Wire
26. June 2020 - Rebuild after Winter-Storm
First Installation 28. August 2019
Installation of OptiBeam OBLY14-5 at 28. Aug. 2019
2. Jan. 2020 - Drone Video of the old OptiBeam
View from the Mountain at 1'660m