Projects
Jabra DECT Headset for all Transceiver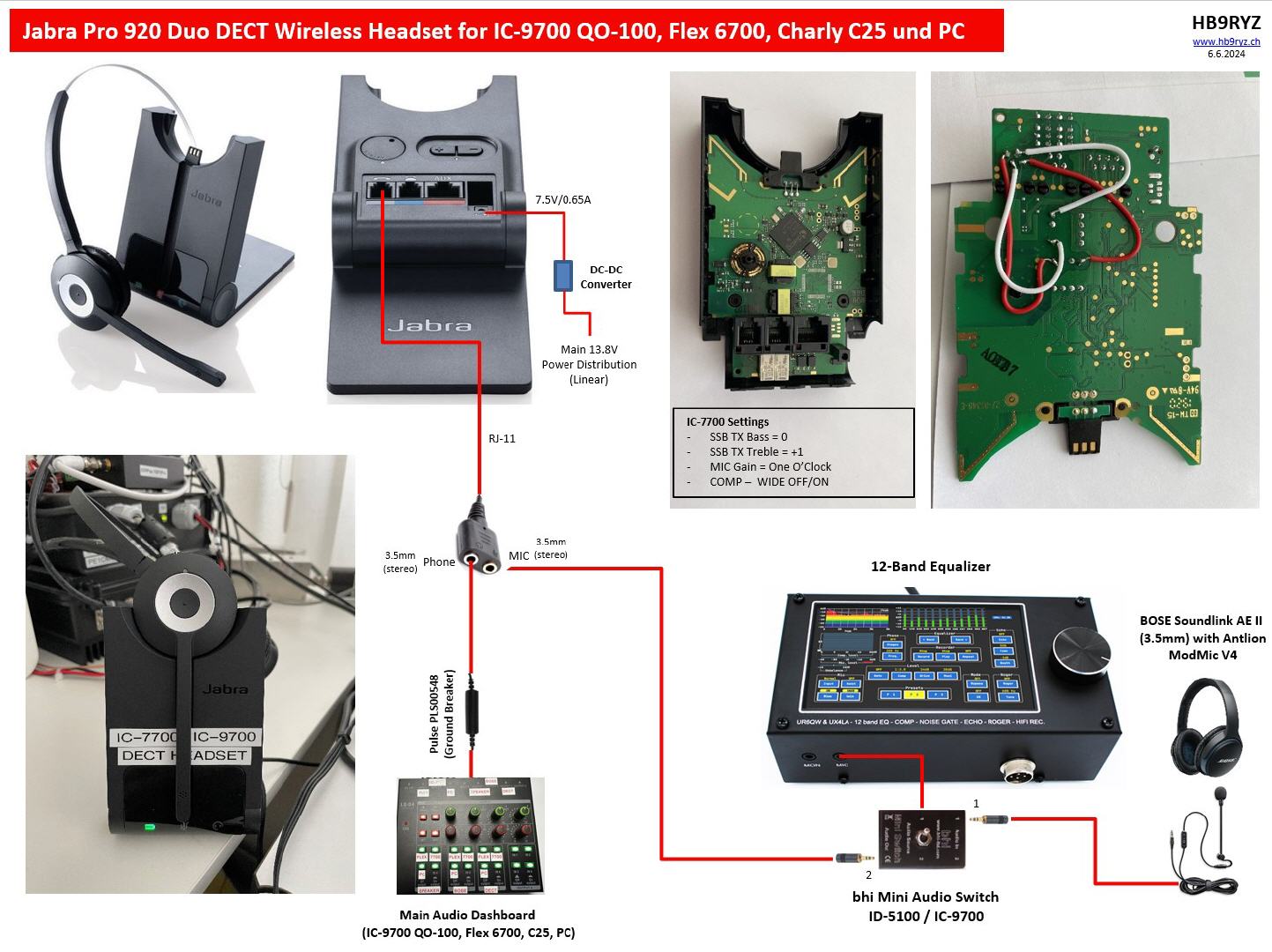 Jabra 920 Pro DECT Headset
The Jabra Pro 920 DECT headset is very suitable as a headset for all transceivers. In my case for the IC-9700 (QO-100) and IC-7700 for shortwave. Together with the EQ of UR6QW modulation is perfect. All Jabra functions such as mute etc. work without restriction and I can now move freely up to 150m away from the transceiver and also be on-the-air with the VOX function.

Thanks to Leander HB9RMW for the engineering.
Shack Audio and MIC Switch Box Solution with EQ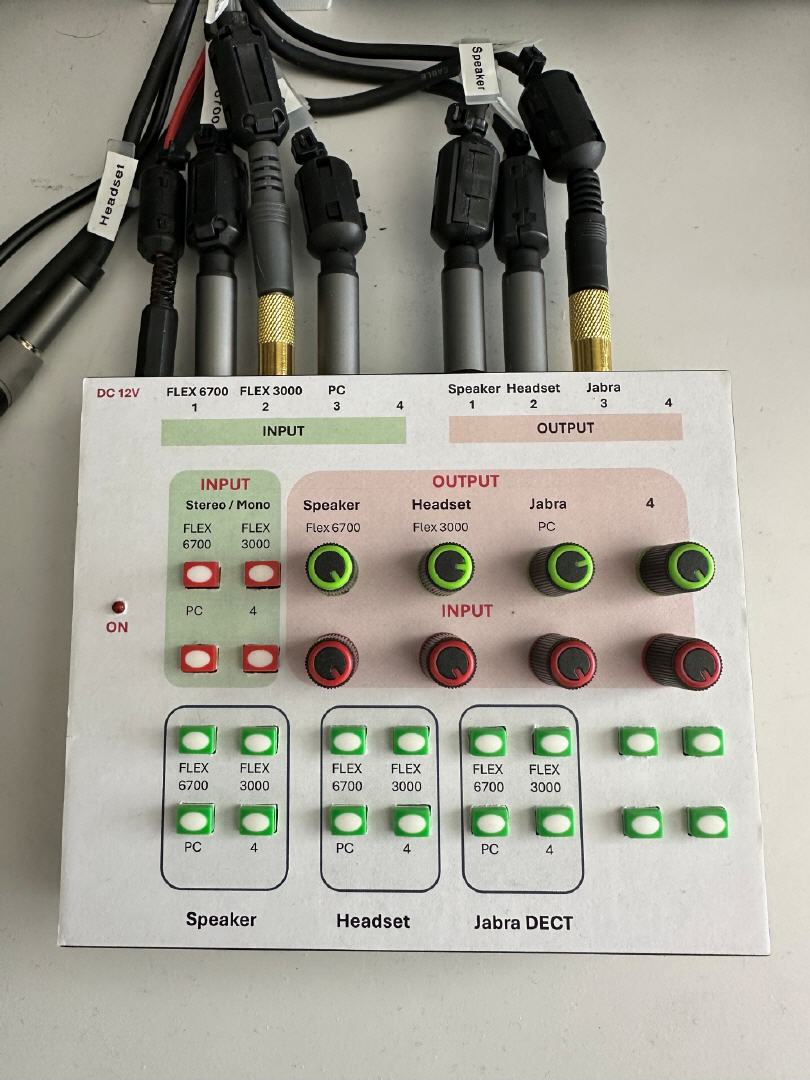 Audio and MIC Distribution Switch for the Shack
The idea was to have an Audio- and Microphone-Distribution where I can choose between different Audio-Inputs and -Outputs and to switch the MIC (Headset) to the right ICOM-Transceiver. And an additional Adam Hall PCL 10 Pro Power Conditioner for all 230V devices in the shack.

So I'm able to switch easy from the PC Sound (SDR Radio Console, Flex 6700, HDSDR, etc.) to the IC-7700, Rohde & Schwarz EK070 or IC-9700 for OSCAR-100 SAT operation using the modified Jabra DECT Headset or Heil Pro Set 6 (iC) Headset.
10-Band EQ V7 for ICOM from UR6QW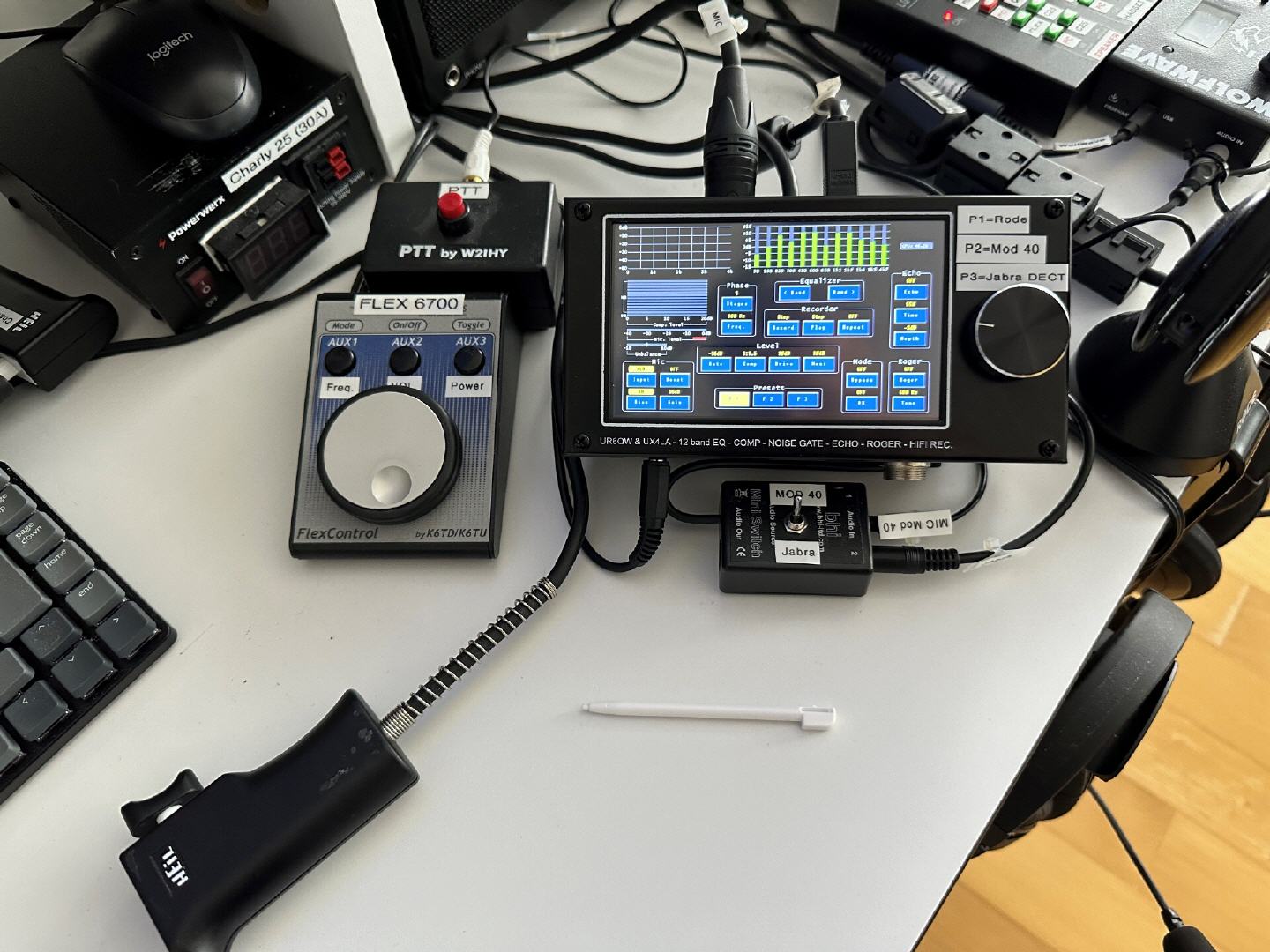 10-Band MIC EQ V7 for my ICOM Transceivers
The EQ V.7 is a versatile sound processor. You can connect any microphone to it (even a Condenser one requiring 48V phantom power) and make your studio-quality signal.

It works excellent with my IC-7700 and IC-9700. I'm uisng the Antlion ModeMic4 Microphone or the Heil Set Pro 6 IC.
Remote Control Expert 1.3k Amplifier
Remote Control of Expert PA 1.3k over Internet
The goal was to remote control our SPE Expert 1.3k amplifier at our Remote DX site in the Swiss Alps for 2 operators (HB9RYZ and HB9CQK) "simultaneously" with the SPE Expert Term software via the Internet.
Looking for a stable solution – and we found a solution
We were looking for a reliable and stabile solution for our remote DX-Station in the Swiss Alps to remotely control our SPE Expert 1.3k power amplifier over the internet.

Our requirements were:
- reliable and stable, high availability
- se of the existing SPE terminal software - Term_13k_232.exe
- provide one virtual serial port for Windows 10
- A solution without the use of a Windows PC at the backend (remote site)
- a robust and weatherproof industrial hardware
- a simple web-based admin consoleup to 4 concurrent connections possible at the same time
- Display of the SPE Expert 1.3k display in real time
- network-enabled device

Remote Control Soution for SPE Expert 1.3k amplifier over the Internet Documentation [578 KB]
ColibriDDC SDR as Panadapter for IC-7700
ColibriDDC SDR/SDRPlay as Panadapter for IC-7700, IC-7610 and IC-706MKIIG
A panadapter is a device (SDR receiver) that connects to a standard hardware radio and allows you to visually see the RF signals on a waterfall. Since SDR's run on the PC, they naturally have the ability to display a panadapter screen, and most software like SDR#, HDSDR and SDR-Console already provide this.

In my case I had a spare ColibriDDC SDR and SDRPlay RSP1A which I used now as panadapter for my IC-7610, IC-7700 or IC-706MKIIG to improve the capabilities of my ICOM transceivers.
Project Clean up my Shack (Sept. - Nov. 2017)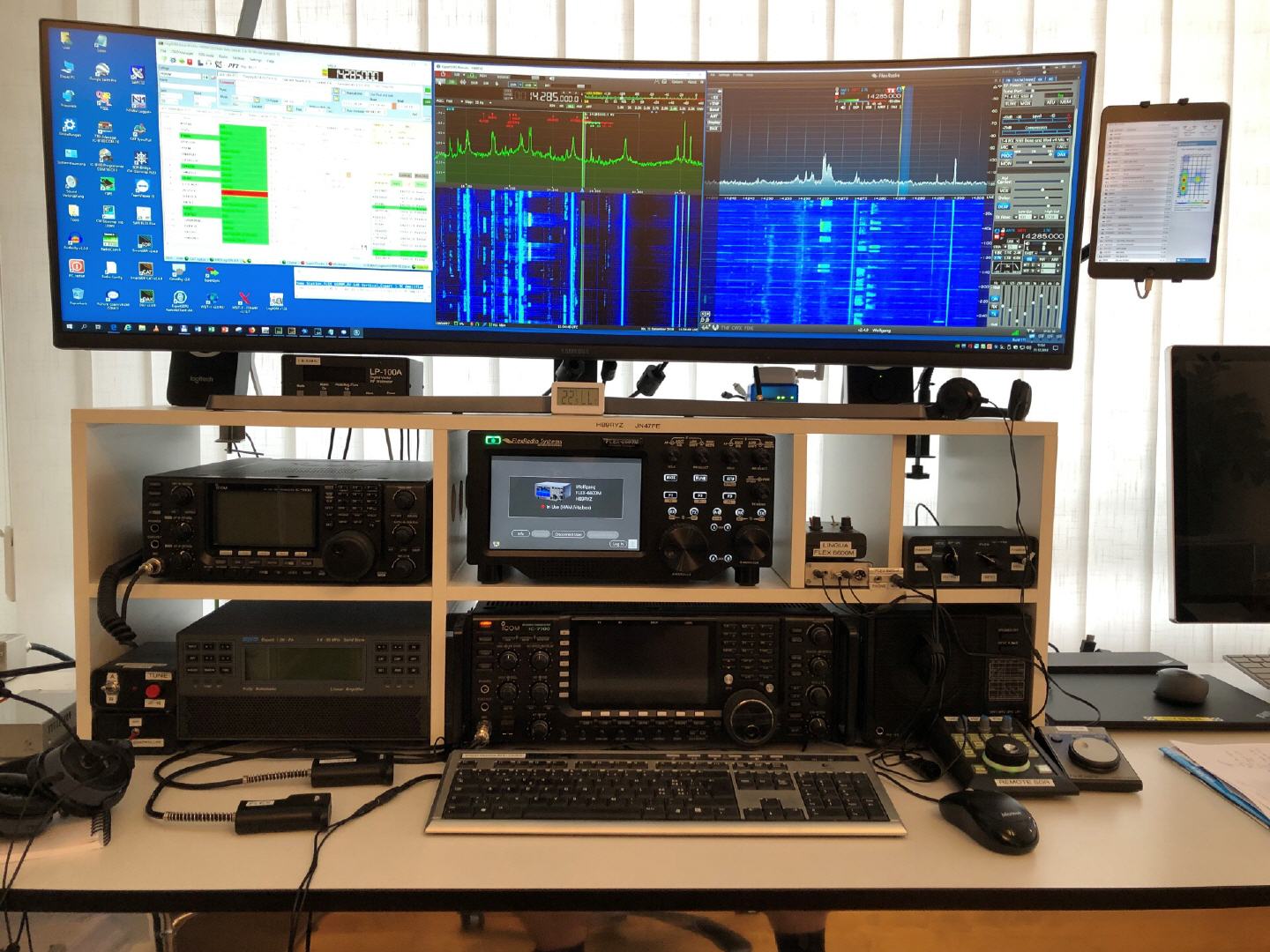 Project Clean up my Shack (Sept. - Nov. 2017)
Main Goals:
- reduce overall noise (RFI) with an excellent grounding
- remove all small 220V noisy switched power supplies
- use only high-end components
- for best usability
- for easy maintenance

Main Workstreams:
- new Shack furniture
- new AC and DC (13.8V and 5V USB) Power Distribution and cabling
- intergrade a RFI filter in to your main AC
- use a lot of folding-ferrite (on every cable e.g. USB, serial, network, etc.)
- new grounding concept based on a main copper plate bus
- new computer (USB & RS232) and network cabling
- etc.
RFI in your house
Power Supply Modification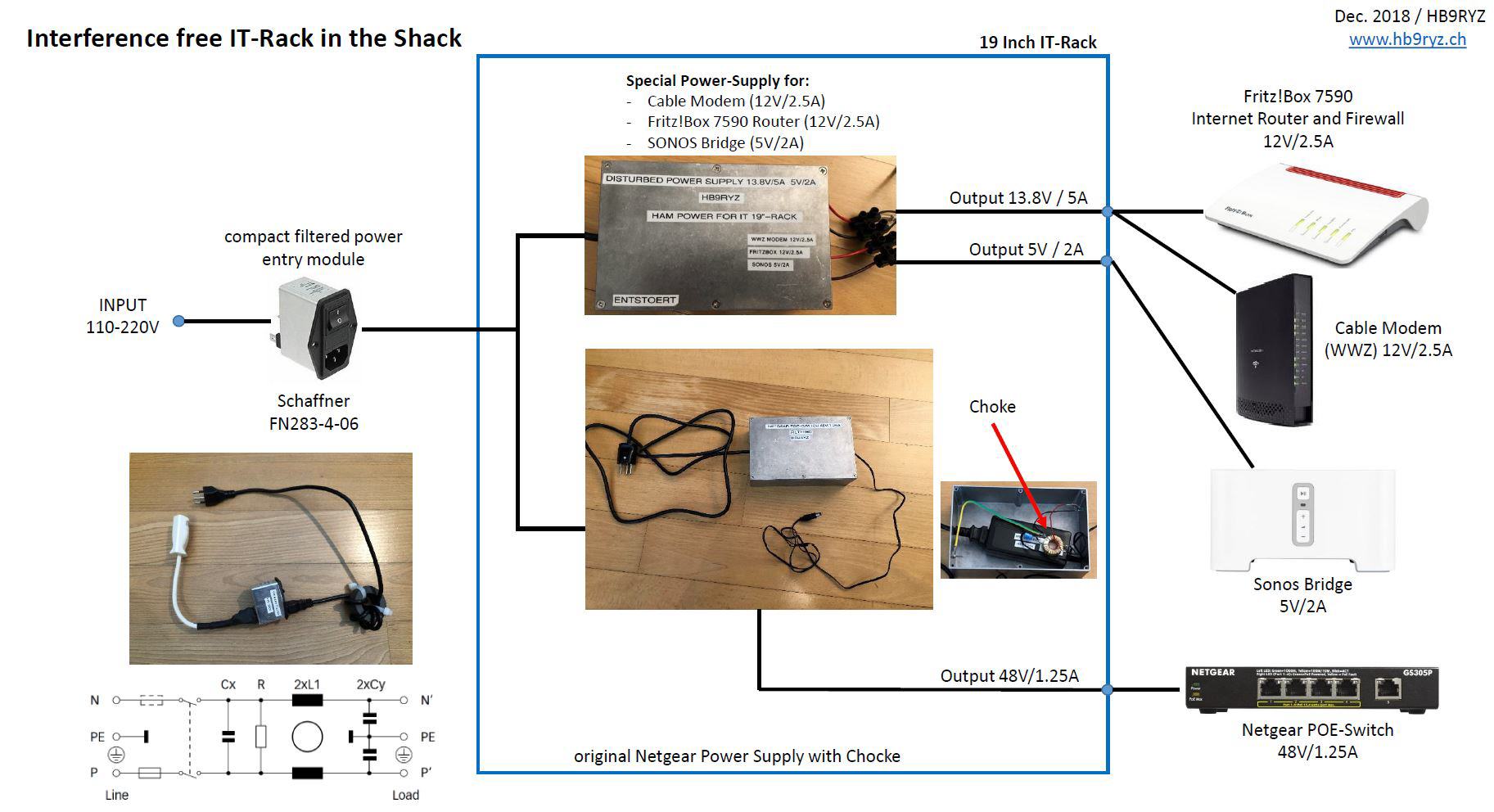 Modified power supplies for less noise
Main Goals:
- reduce overall noise with an excellent grounding
- include a primary 220V main power filter
- include a countered coil with a capacitor in the output power line (13.8V and 5V)
- remove all small and cheap 110V/220V noisy power supplies

ICOM SP-34 Speaker Upgrade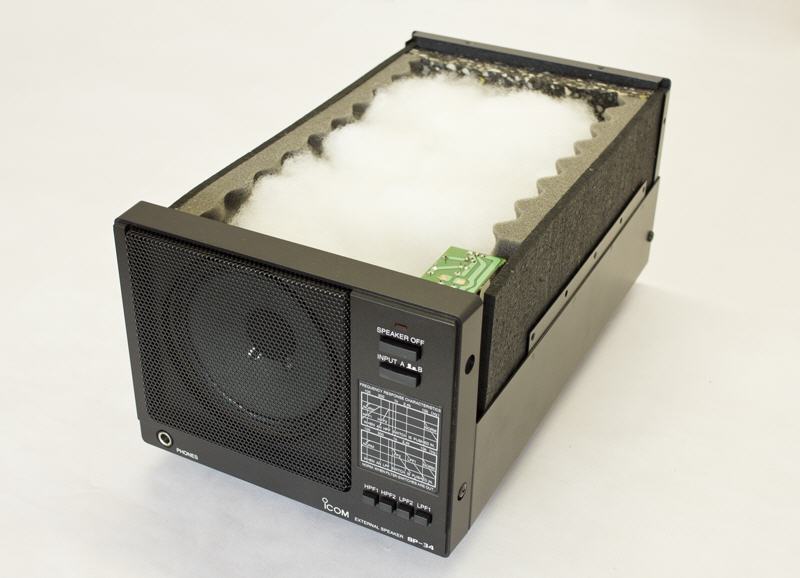 ICOM SP-34 Speaker Upgrade
Your speaker sounds better with PHITS Traditionally, communication speakers have been designed without following acoustic criteria to obtain the maximum sound quality. Their main defaults are low stiffness and the resonance of the metal cabinet. PHITS is a Phonema kit developed to acoustically improve communication speakers.

Thanks to the combination of different densities materials, a more stiffenes box is achieve and reverberation is eliminated in more than 47 dB. The result is a pure, clear and a more inteligible sound.
Flex 6600M